WELCOME TO THE COCKTAIL HOUR.
This page is for all those who would like a break from beer and wine.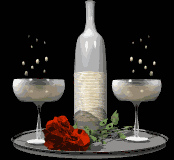 For all those who feel they are sophisticated enough to enter the world of true taste. The world of cocktails is the world where colour and flavour combine, where endless summer hides in the drinks cabinet. Amuse your friend by offering them a Slippery nipple, or a monkey's lunch. Would they like a rusty nail or brain damage after dinner or would they prefer to drink between the sheets with you. Cocktails are the drinks that make celebrities drunk so join the world of the famous, and find out what a celebrity hangover feels like. To make real cocktails you will need to acquire a few implements. A measuring glass to make sure you use the correct quantities of liquid. A cocktail shaker to shake the liquid and a spoon to stir. It is also handy to have a blender handy for those crushed ice drinks. Below is a list of ingredients it is handy to have. No need to buy them all at once, just pick one up now and then and you'll be surprised how quickly they build into an impressive collection.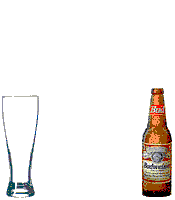 Amaretto: an almond flavoured liqueur.
Angostura bitters: a blend of vegetables and spices.
Bailey's Irish Cream: made from cream Irish whiskey and chocolate.
Blue Curacao: blue colour orange favour.
Cherry Brandy: a cherry flavoured liqueur.
Crème de Bananas: a banana flavoured liqueur.
Crème de Cacao: a sweet liqueur with a cocoa-vanilla flavour.
Crème de Cassis: a blackcurrant flavoured liqueur.
Cointreau: a triple sec flavoured with sweet oranges.
Drambuie: a liqueur made from Scotch whisky and honey.
Frangelico: Italian liqueur tasting of hazelnuts.
Galliano: a golden liqueur with a herb base tasting of vanilla.
Grand Marnier: a cognac based liqueur tasting of orange.
Grenadine: a sugar syrup tasting of pomegranates.
Tia Marie: a coffee flavoured liqueur.
Kahlua: a coffee flavoured liqueur.
Malibu: a rum based coconut flavoured liqueur.
Martini: a fortified wind made in a number of distinctive flavours.
Midori: a green melon flavoured liqueur.
Orgeat: a non alcoholic almond flavoured sugar syrup.
Peach Schnapps: a peach flavoured spirit.
Creme de Menthe: a green peppermint flavoured spirit.
Sambuca: an aniseed flavoured liqueur.
Southern Comfort: a whisky based drink flavoured with peaches, oranges and herbs.
Triple sec: a liqueur tasting of orange.













© <Bibs N' Bobs>